A Cut above the rest...
Here lies the Cut Squonk from the makers of the RageXoHmBoy. A elegant looking piece of kit powered by one single cell delivering 108w's of power. The design is like no other with a perfect contrast of colouration bought into the world of vaping. The squonker everyone is going to be after in no time...
Out the Box
Today I bring you the Cut Squonk, the new squonker from Desire Design. The design is pretty much impressive some may fall in love, some may say it's not their type. But from what I see it is great and fits in the hand perfect.

The Squonk comes in of 4 different colour options Black, Purple, White, and Red. The mod retails at $79 USD and £65 GBP. A really good price for the high quality it is built in.

The battery requirements are a single 21700, which come as standard if purchasing in China or through wholesale distribution Also it will accept high drain 40a 18650, with the supplied adaptor. For this, I used the 21700 to get optimum output.

The mod can reach up to 5-108w which works on VW, TC and PMG mode very similar to the Rage Squonk. In the box also comes two RDA bottom protectors to stop any damages to the top of the mod. These are great little additions to any mod to keep them looking new.

The included BF bottle is 7ml and it's a good construction easy to dispense along with a desire design logo as previous BF bottle.

The kit includes a USB charger which is standard throughout the vaping world. Always at the bottom of the box is the user manuals along with a warranty card.
The Build
​The build quality of this bit of kit is amazing it feels great. The construction is made from zinc alloy and it is beautifully finished with the Desire Design name down the side, this sets the mod off. The magnetic door construction housing the battery and squonk bottle is very strong. The mod is measuring in at 86x45x33mm, so it isn't too big but not on the small side. The feel in the hand is just right and it fits perfectly in my hand. I have heard that a few people don't like how the fire button and the squonk bottle is on the same side? Do you fire and squonk at the same time? Jeez come on I'm sure that is someone being very picky.

The standard bottle which is included is very much perfect it easily compresses to force e-liquid to the RDA and requires hardly any pressure. The bottle can be slightly tricky to undo even with the knurling on the aluminium cap. And you have to be careful not to compress when you are installing the bottle after refill. It can be a mess and ruin the board I'm sure if it were to get in.

The 510 connector which is stainless steel surrounding along with a gold-plated hollow pin, so the BF can easily pass through. As we come back to the magnetic door in terms of batteries, so I first tried the 18650s, why? Easy everyone has them and if I didn't use them it would be pointless not many people go out and buy 21700s. Don't bother they are not the best at all the performance is great at first but peaks so low and uses the power so quickly I would advise investing some money into two 21700s just to make sure you get the full potential out of them. I did find when using 18650s it was very loose. When installing the 21700 battery it was and I mean very tight. I was getting to the point where I was thinking is this going to fit but it does with a push and easily comes out once forced in for the first time.

The screen is a decent size and easy to read. Used this mod in VW mode as it really is the most used out there when I speak with fellow vapours hardly anyone is using TC mode anymore because it can be more hassle than it's worth so on this first initial try I didn't use it. Who knows I may get down to using it when I come to the two-week review. I did find using this mod at 50-60w was brilliant, however, I did push it to the 70w and it still performed very well on the coils I used. The readings were perfect, and it was true to the chip reading it. After building the coil on the coil master it read 0.13 and it performed at 0.13 ohm. I enjoyed the little breath sensor desire design logo flashing through different vapes. It looks good does it need to be there not really as it could depreciate the battery life but hey ho, it works. I used the mod while I was about, and I didn't feel uncomfortable due to its size or shape but why would I, it's cool and works. I did get some random person ask about it and they searched on the internet while I was there just to buy one. They couldn't find them… but managed to find a Chinese company selling them. Good luck…

The buttons are very solid and there is no movement whatsoever I like them, however, the + & - are very small for big hands and can be an issue. They do feel sturdy with no rattle. The fire button is instant and works a treat this is due to the new Cut chip which was purposely manufactured for the mod. The response is very quick, and I love this.

The squonk area is great while I was using the bonza it didn't have any flaws at all and I'm happy in saying it did not leak this is what I want when I'm away from home no leakages. There's nothing worse than a pocket full of e-liquid, trust me. The mod can take 25mm tanks no problem and I did try a few there wasn't any overhang good one there. There's nothing worse than overhang and seeing catching your finger on the burling if any.

What I'm going to say is don't bother charging through the mod itself is really isn't worth it and can cause problems, in the long run, preserve it to make It last and be the perfect device we all hope it to be.
2-week Review
Coming soon...
Pros
Great ergonomics
Good options of modes
Easy to fill and squonk
High Quality
Accepted batteries
Battery life
Simple menu options
Instant fire
Cons
Small + & - buttons
Tight battery space
Conclude
​I'm going to add my overall conclusion for this mod as I really think it deserves the attention it needs. Would I buy this mod? 100% it really is a true piece to add to anyone's collection. The way it's built, the ease of use and the looks it's just fantastic. When I reviewed the Rage Squonk, I didn't think there could be anything on par with that sort of quality and workmanship, but this is on par.

Now I know that this has been manufactured and designed by the same company which makes it easier for them to work alongside each device and not putting one in the corner. They haven't, and they have done well, the rage, however, is a more upmarket piece of kit and does have its better qualities. Along with the price tag. The device is much cheaper than the rage and is worth every penny.

Again, Desire Design well done, if you keep knocking out this sort of equipment you sure are going to be top class.
Equipment Used
Mod –
Desire Design Cut Squonk 108w - Black
Tank - Vandy Vape Bonza RDA BF by The Vaping Bogan - Rainbow
E-liquid – Screwball - 70/30 - 3mg Nic
Coils – Dual Coil - Juggernaut Kanthal A1 - 0.13ohm
Batteries – Avatar 21700 4000mAh 30a
Powered by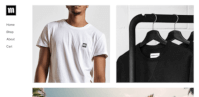 Create your own unique website with customizable templates.