My recent adventure is working alongsige Snowwolf
Snowwolf have the name, the style, the years of backing from many vapours around the world they are one of a kind wither thier designs and overall quality workmanship...
This most recent sponsor has given Vapin'Bolt the chance to work alongside market leaders in the promotion of their newly relaesed products or soon to be...
It is important that this journeys into the what could be an amazing co-operation
Thank you for the support
Powered by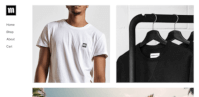 Create your own unique website with customizable templates.