​V 2 the PC…

​iJOY have been around for an age and have got many bits of kit which are huge on the market especially the captain kit which has sold quite a few over the past year. Now they are entering with some kind of pod system. Can they do it? Will they manage to maintain their name with this new design. Let's have a look…

Out the Box
​This looks and feels like a great bit of kit, the kit comes in of 5 different colour options Black, Blue, Red, Rainbow and White. The kit retails at $25 USD and £18.99 GBP. Top price for a great bit of kit. 108.5x19mm

The AIO tank which is provided with VPC ceramic 1.6oHm pod system and the convert for the Jull and Phix pods.

A Micro USB for charging

Always in the box is the user manuals along with a warranty card.

The Build
​This really is a great bit of kit I received the Black Carbon Fibre edition. The device is a great size and the weight seems spot on and it feels very study in comparison to other devices.

The device is really small for its performance and I would say it's worth a go to anyone who is venturing into the vaping world. The kit first pretty quick.

The tank is housed into a pod style system where it can be interchanged with a Juul or Phix pod so very well here. The MTL is perfect for anyone changing to a pod system I would highly recommend this device for that reason along. It's very small and compact.

The VPC Pod is side filling with an easy-to-operate pluggable design. Its capacity is 1.6ml e-liquid, with the ceramic coil which is perfect for flavours of all sorts.

The built-in 1000mah battery which is new in the vaping pen but works a treat. The charge rate is very slow and takes an age something which put me off big time but once charged it worked a treat and I'm happy.

Pros
Great looking device
Juul Pod and Phix Pod additions
Compact
510-threaded pod system kit
Ceramic coil brings nice flavour
Cons
1.6ml tank
Airflow is limited
Conclude
​So, it's my first AIO iJOY device and I'm pleased to say I'm really happy with how it performs. The VPC is again a good piece of kit and is ideal for anyone transferring from MTL to a sub ohm device. The cost isn't massive, so I would be tempted to look at that.

It's ideal for any option night/day, casual you name it, it's by your side and always on point with performance. The performance is consistent and very much strong in its overall performance and build.

The question is would I buy it? For certain I would it's not the best in terms of the tank its very fiddly and really well made for a MTL pod system. However, don't be put off by this. Try it its really is a great bit of kit

Equipment Used
Powered by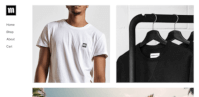 Create your own unique website with customizable templates.