EQ-ualise the Pod
​Innokin was one of my first go to companies for my first vape device, recommended by a friend, for their ease of use. They have always done their best to acknowledge what the market is after and how to stay at the top. This is their first pod system and its small compact and has everything about it. Let get to grips and see how it performs

Out the Box
​Here lies the new Innokin EQ pod device a little pocket rocket. This comes in a well-presented box.

The kit comes in of 5 different colour options; Black, Red, Blue, Purple and Grey/Silver. All the finishes are in a matte rubber which is perfect. The kit retails at $29.99 USD and £25 GBP.

There isn't much in the box but it is what it is. The liquid tank is made of plastic. This does hold 2ml of liquid. Again, I would recommend 60/40 on this bad boy due to the mesh coil. The clouds are nice and honest the hit is on point

A Micro USB for fast charging the charge time is about 2 hours fully which is from flat,

Always in the box is the user manuals along with a warranty card.

The Build
​The pod is great and the construction is really well made for such a small device the rubberised finish is the best I think as it Is anti-slip where small fiddly things can be an issue.

The EQ is designed as a regulated pod with the following protection features;

• Vape while charging
• Low Voltage
• Adjustable regulator
• Rapid heat diffusion for longer lasting coils

The device Is really small and takes very little time to charge this can be charged within 1-2 hours and ready to go, but also has the option to charge while vaping. The flavour is really good and the hit is great. The pods are very well made and there seem to be no leakages at all. Airflow is good and this device Is more of an MTL operation which isn't my usual go-to choice but the wife thinks Its great and the flavours she gets is spot on. I've used the device personally for one day but and my wife has used it for the past 4 days and she thinks it's really worth buying.

The performance of this pod is really good. The Plexus coils in the proton were amazing and even more so in the EQ. I'm glad they have adapted to this coil build as it really works very well. There has been no hassle as such yet it's been charged 3 times, so 5 days usage on 3 charges is pretty impressive. The device is sold and there are no imperfections.

Pros
Great construction
Rubberised coating
Great cloud and hit
Easy to use and fill
Lightweight
Best pod battery life
Great for 50/50, 60/40 and 70/30
No leakages
Cons
Top cap is hard to get used to (push action)
Battery literally nearly dies prior charging no indication
Conclude
​Now I'm getting more and more into the pods and its only because I'm getting a handful for review so it's becoming easy to compare the different types and how they work pods to me all seem the same but this one with the Plexus Mesh Coils is somewhat outstanding and it's going to be very hard to get anything to beat it at the minute. Its size is much bigger. But do I mind? Not one bit its battery is better and seems to last.

The story of this pod is great…my wife who is an ex-smoker too recently cadge this beauty off me and said ill review it for the rest of the week. Fair play. So this has been tested to the degree of a woman's point of view also. She really likes it and says it's simple to use. She's hasn't filled the pod up yet, that's my job she says ha…but overall she said the flavours are lovely, the hit she gets is somewhat like a cigarette which makes her happy. During day three of her usage and she says I'm not having it back…

Would I buy it? Looks like the case of having to. This is by far the best pod I have used to date and I'm really impressed with the overall so is my wife. Go get one…

Equipment Used
​Mod – Innokin EQ Pod System - Grey
E-liquid – Vampire Vape Heisenberg – 50/50 - 3mg Nic
Coil – 0.5ohm Mesh Plexus coil – Innokin Pod
Batteries – Built-in pod battery 800mAh
Powered by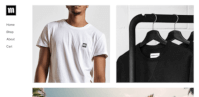 Create your own unique website with customizable templates.