Down to the core

​Joyetech is currently impressing the rivals with sheer innovations and designs which stand from the crowd. Never have they stepped out with a first but this little beauty is what we are after. Never changing the coils, lasting an age and well-built construction is what we need. What's impressive is the RFC heating elements are they that good.

Out the Box
The Riftcore Duo comes in 4 different colour options for the 25mm tank, including Black, Gold, Silver and Blue. All are with the seemingly standard honeycomb resin tip, which has become popular in the vaping world. I would like to see a Rainbow one in the future as its really popular.

The Duo is 3.5ml capacity for all countries, I don't know how they are going to get around the European TPD as I haven't seen any other options to date. But I'm sure there is going to be some kind of loophole on this one.

The tank has lots of different contents in the box which is a good start to get set up and running. In the box, you get a spare glass as we all need them right…the glass isn't bubble but I'm sure it will suffice with the 3.5ml capacity.

The contents pack includes cotton and pre-cut cotton. In the cotton pack, you get a little template which is the exact size of what cotton needs to be for the coils. An Allen key to tighten them post which could also only mean one thing are they going to be replaceable in the future or is it simply single and dual coil compatibility? A set of tweezers so you can easily install the cotton.

Also, spare parts O-rings and grub screws. Along with the warranty card and a big how to sheet in all the different languages, it would be good to see a re-wick tutorial in the future. So when I come to change the cotton I will get one done.
The Build
​The build is of great quality as previously mentioned the slide action is excellent and the opening and closing of the airflow is faultless. The tank feels strong and durable and so it should for how long it's going to last? the resin tip is more MTL the 510 size I like it but I want more huge clouds. I am trying to not compare as much with other tanks but its hard with the bigger RTAs

So, on wicking the cotton it was already placed when I had taken it out of the box but I decided to take it out to see how much was present and how easy it was to the wick. And trust me it's easy. The wick template its very handy for you to cut the cotton to the required size I would recommend using it too and not guessing the size as it may be an issue in the long run and may cause leakages. In the pack of cotton there is some pre-cut cotton so bonus here. I would also advise getting practising cut them.

We now come down to the RFC heating elements. There is nowhere I can find the actual ohm reading until I place it on the ohm reader or a mod, it did say 0.26ohm. I'm not sure what the actual composite is but they are suggesting that it is 100% safe and less harmful than the original coils. I'm still slightly dubious about it as how can ceramic heat up as mentioned also by a vaping friend they were very intrigued on how it actually heated up. The coils can be easily cleaned, and it advises 2-3 intervals of 3secs burning without any cotton present, this self-cleans the coils and they are ready to wick but they just cool down fully prior re-wick as they hold the heat very well. This again is something which I have found to be useful.

The priming of the wick is really about 5 minutes and it can be vaped very quick the flavour comes through but can easily be unrecognisable. I am going to try a new flavour and hope this is going to improve. Wish me luck.

I've tested the coil at 40w and it was very mute in flavour, then at 50w still very slightly mute and not what I'm after. It advises best performance 40-50w however, I did go up to 60w and still, there seems to be no action from this. I still think it is early days and that more testing and overall needs to be done to get it right. This tank is 100% MTL and DTL vapours need to stay clear in my opinion.

The airflow is really good though, but it does make a big contribution to the small clouds that's all I can put my finger on I've tried a few things in closing the airflow and upping the watts just to see what I can get out of it, but I'm still not impressed…
Pros
Great quality workmanship
Solid cobra tip
New heating RFC coils
Good wicking process
Great design
Compact
Cons
Flavour is off
High readings during vaping
Readings all over
Clouds aren't the best
Conclude
​What are we saying…well its right out there, it is impressive, it looks good, it's easy to maintain and coils last an age! It would be good to know how long they actually do last as its new there can't be any more than a month old. I am going to pick a review up later down the year and see where we are at.

The flavour isn't the best and personally, it's not going to beat a well-built RDA, come on now. But still, the flavour is there with a slight mute. The clouds aren't huge but good.

If you are after the easy build RTA, then go get it. The ease of use and set up are 100% beginner and worth anyone starting out. It feels reliable and content. My only problem is that if it lasts so long will I get bored of the looks? Maybe I like to mix things up a little from time to time

Now would I buy it…nope…why? Well once you have it there is very little fun and the price tag wow… no thanks build, build, build. But I'm not saying that I would put anyone off…
Equipment Used
​Mod – Asmodus Minikin 2 - Chrome Gold
Tank – Joyetech Riftcore - Blue
E-liquid – Joes Juice - Bubble Berry - 70/30 3mg
Coils – Joyetech RFC Heater - 40-50w
Batteries – Sony VTC5a 18650 2600mAh
Powered by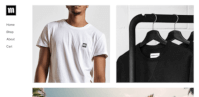 Create your own unique website with customizable templates.