Recipe No.01
​A sweet blend of lemon and lime, mixed with an almost undetectable strawberry base which mellows out the sharpness of the recipe. A smooth and refreshing all-day-vape.
Personal Usage
This e-liquid is one of a kind and i find it a go to choice daily. I don't get bored of the flavour and its never mute.
​
The cloud production on mesh coils is really good and it seems to be a constant flavour throughout the whole vape.
Anyone who is after a refreshing taste and nice cloud for this warm weather, I would recommend to go out and get it* at a bargain price of £15.98GBP, along with the Nic Shot which is £1.98GBP
This flavour deserves a 9 out of 10
Well done Vaporworks...its one i can't possible put down
​*see website links to purchase​
Powered by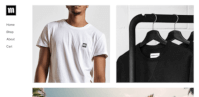 Create your own unique website with customizable templates.