Recipe No.76
We've blended our own toasted vanilla bourbon to give a distinctive flavour and warming sensation on the inhale with lingering hints of coconut on the exhale. A must try recipe for all.
Personal Usage
Wow... on receiving this E-liquid I couldn't wait to get it mixed. When I read the flavour I was really interested in what this would bring to the pallet. Its absolutely amazing and I would use this has an everyday E-liquid. It really does bite the tongue.
​
When I mixed it with the provided nic shot, being my first time using this I was really interested in what this would be like as a hit to the throat, it really was so smooth and gave a nice cloud overall.
This is a must for anyone after an edgier, grown-up flavour, I would recommend anyone who wants to try something new to go out and get it* at a bargain price of £15.98GBP, along with the Nic Shot which is £1.98GBP

This flavour deserves a 10 out of 10

Well done Vaporworks...interesting what others are going to top this beautiful concoction...

​*see website links to purchase​
Powered by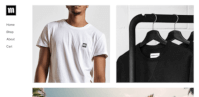 Create your own unique website with customizable templates.