Lock and Load
​Voopoo designed the first ultra-fast chip called the Gene and decided it would be great to go in anything. They first released the Drag a stunning mod with lightning ramp time something which stands out for me. One of the newest companies to hit the market but are sure to be around for a while. Brace yourselves for this…
Out the Box
​Voopoo Caliber what a stunning bit of kit…The kit comes in of 11 different colour options Black, Bronze, Orange, Red, Gold, Army Green, Green, Rainbow, Blue, Purple and Silver finished with a gold, gunmetal and rainbow knurling. All the finishes are either matte, brushed or gloss for the rainbow only. The kit retails at $49 USD and £40 GBP. Top price for a great bit of kit.

The U-Force tank which comes with bubble glass and a green resin drip tip. The contents in the box are a spare glass along with two coils the U4 dual coil and the U6 triple coil. Both deliver outstanding vapour and flavour.

A Micro USB for fast charging and it charges in no time.

Always in the box is the user manuals along with a warranty card.

The Build
​This is a stunning built of kit and not overboard. The construction is outstanding and really feels well built. The total weight is great at 108g so you will not feel like you are carrying a brick of some kind. The gold knurling details set the pen off and they look good in their contrasting colours. When removing the tank you have a star design which is perfectly engraved into the gold band.
On the front above the fire button the device lights up blue when firing or charging the device. The device will also enter a standby mode after 30 minutes of not being used and you can wake it up by clicking fire twice. at first I thought the device was misfiring but realised on the day two that it was a safety feature to stop catching it in your pocket…ace!
The built-in 3000mah 23600 battery which is new in the vaping pen, but works a treat. The charge rate is 1A which is lower than some pens out there at the moment it would have been good to see the standard 2A to keep in line with everything else but it may be that it charges better at a slower rate. With the Gene Fan chip inside, there is no-delay 10ms firing speed…amazing!!
The Caliber is designed as a regulated pen drive with the following protection features;
Over protection
Over-temperature Protection
Output over-current protection
Short circuit protection
Discharge protection
Overcharge
The U-Force tank 24/25mm but actual size Is 24.6mm, oh my and it's brilliant with the slide top action as well. The vapour clouds are brilliant and they literally are full of flavour. The tank comes with a standard 3ml capacity glass and a 5ml capacity bubble glass.
Pros
Great construction
Solid build
Perfect flavour
Easy to use and fill
Constant 110w of power
Great battery life
No leakages
Cons
Temperamental fire button
No indication of low power
Slow charge rate 1A
Conclude
​My first device was the SMOK V8 Baby pen, and I would never venture towards a mod as they were so big. However, I converted along the way and said I would never return to a pen device…I was wrong, I love this bit of kit It's flawless and it's one of the best on the market without a doubt.

It's ideal for any option night/day, casual you name it, it's by your side and always on point with performance. 110w of power from a single device is superb and I can't get over how its developed so much over the years.

The question is would I buy it? Hell yeah!! It's great honest I cannot fault it the colour isn't my go to choice but it's a grower and I feel it works. The gold is brilliant. Anyone after their first device please go choose this to experience the best option possible in a pen device. Its battery lasts at least two days, and the tank is one of the best subohm tanks I've used to date. This tank has also been tested on both the Drag and Minikin it never dips…

Equipment Used
​Mod – VooPoo Caliber – Green
Tank – VooPoo U-Force - Green
E-liquid – Clown Liquids – Drooly – 70/30 3mg - Stunning Flavour!!!
Coil – U4 - 0.23ohm Dual Coil
Batteries – Built in pod battery 3000mAh

Powered by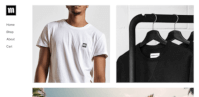 Create your own unique website with customizable templates.