Keep on moving...
​Wismec has always been my confident product to recommend to anyone, they are built to last and are strong contenders in any day to day mod. They have managed some really good products and shown how collaborating with designers like JayBo, that anything is possible. Music is what makes people move and keeps them intact, vaping is now a go-to choice over smoking in all generations. This is a positive bit of kit which in my eyes is going to stay in the market and people are going to want it as a second mod. Let's have a look at this first time Bluetooth speaker mod and see what it has to offer…
Out the Box
The mod comes in of 3 different colour options which are Solid Black, Black and Silver and Black and Orange. With the option to add a rubber outer protective sleeve which comes in the following colours; Blue Camo, Orange Camo and the original Green Camo. All add a nice finishing touch I do prefer the black standard outer rubber. The mod retails at $110 USD and £80-99 GBP. So, a high-priced bit of kit. Unless you can get a deal on a pre-order from anywhere.

The battery is a built-in 2100mah which seems to be an off put for many people who have asked but it will last a dream if using the MTL coil. The battery life is good as you'll see in the build section.

The mod can reach from 5-80w which works on VW, Bypass, TC-Ni, TC-Ti, TC-SS and TCR mode. The chipset isn't too bad but works best with provided Armor NS Plus tank.

The tank included again is the Armor NS Plus which is very nice to look at and easy to use. It comes with the acrylic bubble tank and an MTL drip tip. Which are good, and I can see why they have used them, to make they are more durable and less likely to smash. A spare coil which is the WS02 triple core 0.2ohm

The kit includes a USB charger which is standard throughout the vaping world. A climbing tag, various O-rings and the essential bits to keep it working a treat.

The usual warranty card and instruction manuals are included also.

The Build - Mod
​This mod looks great and is very light in terms of what people are after. The build of it is plastic which has been done before and works well. It might not seem durable being plastic but the rubber housings are going to take some really hard impacts to any solid surface. The speaker housing is metal and finished in a powder coat paint. The mod is measuring in at 94.5x55.6x26.6mm. So, it is bigger than some mods and but not overly.

The screen is a perfect size for the mod and very bright. There were no issues reading this in any light condition to read. On the screen, it displays the battery life and the V and ohm's. I have only used this mod in power mode as I always say not many people are hitting TC or bypass. It properly the safest option to use in any circumstance. The power is only 80w but for a single battery mod its fine. Very similar to the pen devices but more of an option to increase the W. I haven't tested what the actual power output reading is. It fires instantly, and the power is constant through to the last bit of power. The coils fire quickly and at 10-12w I used the MTL it fired brilliant.

The battery life is great, it lasted a full day without using the speaker and I managed to get a decent vaping going. The performance was right down to the safest it could go to on the battery.

The buttons are fully housed under the rubber seals and can be seen in the pictures that they carry a yellow rubber seal this is the 100% waterproof. All the buttons are very clicky and very responsive. Overtime them ay become slightly worn as it is still early days.

The tank is really great and compact with the sliding action we love this and as long as the seal is strong enough we are happy. It currently is 2ml for all TPD compliant countries and 4.5ml everywhere else.

Some other features which are included are as follows;
Firmware Upgradeable
Adjustable Memory TCR
Temperature Control Suite
Ni200 Nickel, Titanium & SS316L Support
Low resistance protection
Resetting option
The Speaker
​The speaker is amazing and works a treat in any environment I've used it in the garden, the bathroom and in the house to play music this was the first thing I tried. It's not a high-end speaker but it really does pack some sound out. The speaker even works underwater as per the promotional videos.

To pair up you simply hold the power on button until it beeps, once the beep has sounded it will say Bluetooth mode and then you can search it on any Bluetooth device. Once paired, you will automatically get a pairing when turned on and the device is in range. It's simple and quick!

The overall sound quality is crisp and clear no muffling but it lacks a lot of bass. We have got to remember it's a mod we are wanting not a speaker overall, so I will leave it there. Everyone to their own.
The Rubber Finishes
Pros
High Quality
Great Finish
Unique rubber covers
Easy to use
Nice bright screen
A good fire button with instant fire
Amazing battery life, especially with MTL option
Well-built speaker
Literally waterproof (100%)
Colours options
Durable
Cons
Sometimes can dip in power with other tanks
Not a night time out piece too rough and ready
MTL isn't the best option for clouds
No bass in speaker
Conclude
​When I was announced as the reviewer of a new product which Is soon to be released I was over the moon and to be confirmed to be the first 150 people to have one for review it was a pleasure. The initial wait was nail biting and I now have none left…" We can confirm you will be getting the new kit called the Wismec Active at present no more information can be confirmed but you will love I'm sure" …that's what I had emailed to me early one morning.

So, when it was announced worldwide the new Bluetooth speaker Mod and by Wismec I was like no way really? Music is my number one go-to choice, so at first, I was very hyped up and I then couldn't wait.

I will start with would I have chosen this kit to purchase over anything other than a normal mod…nope it was too gimmicky I would have felt silly having it as an everyday mod but then when I think about it it's me all over. Just imagine cooking a BBQ with the tunes playing by your side and vaping now and again with greasy hands no worries here in terms of durability. Or working in the garden with this by your side, washing the car you name it its fit for any purpose.

I always say it would I buy thus mod? I think I actually would its really great. The speaker is very good and is loud enough to hear, come on it's not Bose but it's still good. The screen is clear, bright and shows you everything you need to know. Its performance is good it does sometimes dip on other tanks, but it was mainly built for the NS Pro. The durability of this mod is outstanding I've dropped it once down the stairs what happened I picked it up and vaped. Still worked fine. I know it's not a big impact but its many drops and bashes.

Now would I recommend it to anyone? yes, I would the battery life is great I've charged it 3 times since I started to use it. I've not managed to put it down yet and occasionally pop some music on if I'm pottering about. I did take it on a weekend away but didn't manage to take it out at night as I felt it was too in your face and would look a bit overboard. This resulted in me using a Pod system. It's bulky but not big it's very light and doesn't feel like you have it in your hands. The speaker works well in bathrooms and is clear as day so well done there. I'm going to be using this on and off for the next month, so I will do my best to get an update up as soon as there are any more changes.
​
Wismec congratulations on gaining the first Bluetooth speaker and really doing it well, hats off and bow to the all mighty vape innovators…
Equipment Used
​Mod – Wismec Active Mod – Black and Orange
Tank – Wismec NS Plus – Black and Orange & Wismec Gnome - White
E-liquid – Drifter – Rhubarb Sour – 70/30 3mg
Coils – MTL WS04 1.3ohm and the WS01 0.2ohm triple coil
Batteries – Built in 2100mAh battery
Powered by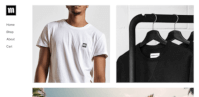 Create your own unique website with customizable templates.