LUXor D...
​Wismec…Wismec…oh where have you been such a time has come since something like this has been released. The Luxoctic range is ever so developing and consistent in their approach to the vaping world. But where has this been it seems since the RX was released they have been holding off but it's here...

Out the Box
So the new Wismec Squonker… It's of 4 different colour options Black, Green, Blue and White. All are a good option and I'm sure they will attract all the market. The kit retails at $60 USD and £49 GBP, such a bargain.

The battery requirements are a dual 18650s, these do not come as standard and are sold separately to some readily available kits. I've used two sets of batteries fully along with a 3rd cycle total, so 6 in total. The batteries last some time but the performance drops slightly in terms of power.

The mod can reach up to 1.6-200w which works on VW, V, TC, Curve, and Bypass. The chipset in this kit is great it's the new Avatar chip, the one being used in the Luxotic MF and all new Wismec models going forward

The tank included again is the Guillotine V2 which is very nice to look at and compact. Along with cotton and the coils. A beauty ring to stop any scratching of the tank on the top and all the spare parts for the tanks itself.

The kit includes a USB charger which is standard throughout the vaping world.
​
The warranty and the usage leaflets were included also on this even though it was a sample.

The Build
The Luxotic has a single fire button which is very clicky and seems to be very robust single button. The power is constant but seems to be less than actually read. I think it is out slightly and need a new firmware update to get this right. The bottom door is hinged on a spring-loaded catch which is pretty sturdy similar to the RX range. The mod is measuring in at 42.1x54.5x77.2mm. So, it is a nice size and looks the part.
Building on the deck is simple and takes time to get used to the way it is on the posts. The pre-made are cut so there is no messing with them, but they become very fiddly. The wicking has to be set right and when I mean set right you have to make sure that you have the cotton close to the BF hole and I don't mean covering It as It will not fill the well and juice will not soak into the cotton.
The priming takes minutes and can be vaped pretty much soon after. The feed system is similar to most squonk devices I'm not a big fan how it is behind a magnetic door as it can be very hard to get the bottle in and out of the chamber. Again, can be quiet fiddly but I see why they have done it so it looks more secure.
I've tried the Wismec with different tanks and it performs very well 25mm with the beauty ring, this can be removed and can go up to a 27mm tank with no problems at all. I would recommend using 25mm with the beauty ring all day.
The Luxotic DF is designed as a regulated Mod, with the following protection features;
Time out protection
Over charge protection
Discharge protection
Short circuit protection
Reverse polarity protection
Over discharge
Pros
Looks Great
Great build
Airflow is decent
Consistent flavour
No leaks
Easy to use
Good hit
Update available
Cons
Average wattage rating
Battery life isn't the best
Takes a while to get correct reading on RDA
Conclude
​I love this kit I think it's great and works a treat I know it's going to be very popular, why wouldn't it be it is simply the squonk RX version. But will it overpower the other squonks on the market which have high praise? Something I will never know but preference is a key.

So, the guillotine tank isn't the best performing and it took me a while to get it right in terms of the coil reading correctly. I did have to strip down the tank and fully clean it prior to setting it up. The cloud and production of the tanks is good but could be better. I did find that i have to ramp the wattage up a bit higher than usual just so it would perform well.

I always say it would I buy thus mod? Of course I would it's a great bit of kit and it works a treat. I've used it for a while now and love how it's been for me. Many other have commented and asked where did I get the sqounk bottle from for the RX but they realised that it was a newer version.

Equipment Used
​Mod – Wismec Luxotic DF – Green
Tank – Wismec Guillotine – Black
E-liquid – BIGML – AppleCherry – 70/30 - 3mg Nic
Coils – Fused Clapton's - Dual Core - 0.15ohm & Own messy coil build 0.22ohm
Batteries – Samsung 25r 2500mAh & Sony VTC5 2600mAh

Powered by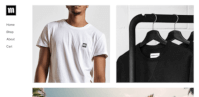 Create your own unique website with customizable templates.