Little Big Tinker...
​So who inspired this…the 'Air Jordans' and wow it looks so attractive to any collector of vapes or trainers be sure to check it out. So this little beauty carries the Avatar Chip something which is new to Wismec and being put in everything at the moment and I can see why…let's have a look

Out the Box
​The Tinker comes in of 3 different colour options Grey, White and Blue. The mod retails at $99 USD and £80 GBP. A really good price for the high quality it is built in. but can be expensive to some people if they are not after this set up

The battery requirements are triple 18650

The mod can reach up to 1-300w which works on VW, TC and RTC mode which is new to the vaping team. No mod protectors in this kit, these were great little additions to any mod to keep them looking new.

The tank has a 6ml glass bubble with an extra spare glass which carries 2ml of juice so TPD compliant. There are loads of spare O-Rings and a spare coil, which is mesh love the mesh Wismec have bought out.
The kit includes a USB charger which is standard throughout the vaping world.

Always at the bottom of the box is the user manuals along with a warranty card.

The Build
​The Reuleaux Tinker is quite a heavy device, but it also feels very solid, as if you're holding something valuable. (Bear in mind I have dropped this and smashed one tank glass) Just to point out it's going to be heavy if you want that power and the powerful mod then you will have to grin and bear it. The mod is measuring in at 73.6x56x44mm, so it isn't too big but not on the small side.
The Reuleaux Tinker has an oval shaped body with a flat front, and this is where the screen and buttons are located. The Reuleaux Tinker has a tri-tone colour scheme: a metallic light blue for the top and front of the device, a light grey for the sides, and the black and grey 'Jordan' patterning around the back and the grip.
The mod can house a numerous size of tanks and I do feel you don't need anything too big on this as it will look huge and properly stand out too much however, I did it and tried most tanks I'm using at the minute just because I could get the batteries down.
So now the tank, got to say the column look so basic and outdate but its grown on me and I do like It. the flavour has been great and I cannot fault the way it been in terms of mesh. Now I have had an accident and actually smashed one glass up to yet. Silly I know but the kit is so bulky. Apart from the glass everything was fine. I've had no leakages at all from the tank which is a bonus to be fair so all good there! The action is a slide top I love this idea always have.
The whole ergonomics I feel personally are wrong am not sure why but It don't seem to fit in the hand right. I've tried to turn it round etc. but nah the button needs to be on the opposite side. The screen is a nice size and easy to read. Used this mod in VW mode as it really is the most used out there when I speak with fellow vapours hardly anyone is using TC mode
I did find using this mod performs well from low wattages to 90w. The readings were perfect on the Avatar chip which is the second time I've used this in a mod first being the DF mod. The buttons are very solid and there is no movement whatsoever I like them, however, the + & - about the right size slightly bigger than usual. They do feel sturdy with no rattle. The fire button is instant and works a treat this is due to the new chip which was purposely manufactured for the mod. The response is very quick, and I love this.
The protection which is carried on the Avatar Chip is as follows;
Over charge
Over discharge
Over 10s protection
Short-circuit
Over current
Reverse Polarity Protection
Temperature Protection
Pros
Good options of modes - New RTC
Solid build
Stylish finish
Great performing tank
Strong battery door
Instant fire
Fires up to 300W
Great Battery Efficiency
Tank is Flavourful beast
Cons
Uneven battery drainage
Big mod
Design won't appeal to everyone
Conclude
​I'm going to add my overall conclusion for this mod as I really think it deserves the attention it needs. Would I buy this mod? I don't think I would I'm really not the biggest fan of triple battery. However, I do get the whole concept behind it that they bring a bigger battery life and that they chuck some huge power into the tank. But I do prefer the dual batteries. Now don't be put off this is my opinion it really is an outstanding mod and the tank is a perfect pairing.

I even used the mod with other tanks and it was hitting like a beat I've paired it with a Druga RDA, FreeMax Mesh and the Snowwolf mini, however, this needed to be on a small wattage as it burnt easy due to the change

Now this kit really is one to have and i seem very contradicting in what I mean by I wouldn't buy it. Is simple is only because it's too big If this kit was lighter and had the same power output it would appeal to me and I really am so pleased I have got the chance to review this and add to my collection because truthfully it's the best triple battery mod out there at the minute…is there anything better? Maybe a DNA but it's not new!

Wismec you are and will be one of the best company just remember don't lose the touch you had…

Equipment Used
​Mod –
Wismec - Reuleaux Tinker - Blue
Tank - Wismec Column - Blue
E-liquid – Nasty Juice - Berry Series - Broski berry - 70/30 3mg
Coils – Mesh coil - 0.15ohm WL01
Batteries – Samsung 25r 2600mAh 18650s
Powered by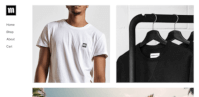 Create your own unique website with customizable templates.